OLD PHOTOS
CLICK ON IMAGES TO ENLARGE
Loretta's Millinery Salon
vintage hat box cover.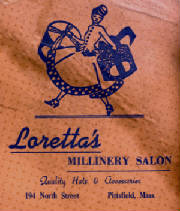 If one looks through old photos long enough, one eventually finds the photo that fits the family narrative. The photo below is one of such proof:
Below is Loretta (center), the founder of Loretta's. In front of her is yours truly, To the left (facing the photo) is my brother, Anthony Sottile; and, to my right is my first cousin, Anthony Ruberto. (There can never be too many Anthonys in an Italian family.) Behind Loretta are two of her three sisters: To the left is Mary, Anthony's and my mother. To the right is Edith Ruberto, mother to Anthony, whose brother James, was not yet a twinkle in anyone's eyes as his father was fighting in World War II.
After Loretta's death, sisters, Mary and Edith, took over the store. They kept the name, "Loretta's," and grew the business.

Loretta's Salon
Then...
Loretta's Millinery Salon was founded in the '30s by Loretta (Sonsini) Pellegrinelli, an entrepreneur with one idea: Own a main street millinery salon. And, that she did.
Beside her own energy, she received help from her family plus the business community. Loretta's Millinery Salon was a success.
Looking back, for Loretta it was a brief success. In 1946, she acquired an illness which progressed until her passing in 1952 at the age of 45. On her funeral day, as the auto procession passed through the city's main street merchants came from their shops in respect. Loretta was quite a gal.
Loretta's did not close after her death. Her sisters, Mary (Sonsini) Sottile and Edith (Sonsini) Ruberto, took over. The store continued until 1959.
So, for about six decades, Loretta's had been but memories and artifacts, such as the heat-able hat stretcher next to my desk. BUT, NO LONGER!
Now...
Today, virtual Loretta's is an Affiliate of Amazon. The eStore is without the burdens of bricks and mortar retailing, plus with a limitless inventory from Amazon approved vendors whose products/services are under Amazon's Protection Plan.
Marketing is about targeting buyer segments. Without doubt, the Kentucky Derby (plus the other Triple Crown races, Breeders' Cup, Saratoga Meet, etc.) attracts women to hats as it does racing tradition to the present. It is an exciting sporting event for fashion from dressy to casual.
With the Derby Day approaching, what better time than now for Loretta's feature its 2018 "Run For the Roses" Spring/Summer Collection! So, return often. More women's hats, fashions, and accessories will be added.
I hope that you enjoy the shopping at Loretta's as much as I do buying for it and hosting this website..
JDS