The Kentucky Derby
is a very special day for women and hats.
MINT JULEPS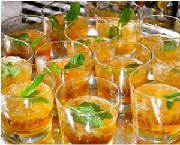 A Splendid Tradition!
Loretta's Salon is an authorized Amazon Affiliate Store.
This means that your order will be assured by Amazon,
the most successful retailer on the Internet.
Upon approving your shopping basket,
you are dealing directly with Amazon's
secure online payment system.
THE MINT JULEP is an alcoholic cocktail, consisting of bourbon, water, shaved ice, and fresh spearmint. Being bourbon-based, it is associated with Southern Hospitality and The Kentucky Derby.

Traditionally, mint juleps are served in silver / pewter / copper cups, and held only by the bottom and top edges to allow frost to form on the outside of the cup while preventing hand-heat transfer.

Beyond a host's mere ability to offer a drink, offering mint juleps marked the provider as an elite: (1) Serving ice meant either ownership of an ice house or wealth to buy ice, an expensive item in the American South. (2) The traditional solid silver cup was a mark of wealth. (3) One needed a trustworthy servant who had access to one's fine whiskey, ice house, and silver cups... plus the talent to muddle the drink in a properly frosted cup.

Since 1938, the mint julep has been promoted by Churchill Downs in association with its Kentucky Oaks & Derby. Yearly, over 120,000 mint juleps are served in the two consecutive days of these races. Cheers!
THERE IS
AN ARRAY OF MATERIAL & SHAPES
FOR MOST STYLES WHICH WILL BE SEEN
UPON YOUR SELECTION OF A STYLE.

LORETTA'S SALON
MILLINERY | FASHION | ACCESSORIES

Loretta's Salon is a participant in the Amazon Services LLC Associates Program,
an affiliate advertising program designed to provide a means for sites to earn
advertising fees by advertising and linking to Amazon.com."