Yes, it was Camelot,
but not for women's & men's hat stores.
THE KENNEDY'S WERE NOT HAT PEOPLE.
In 1960, John Fitzgerald "Jack" Kennedy became President of the United States. As opposed to the older, hatted, previous presidents, there was the youthful Jack, who felt that fedoras made him look old. His refusal to wear fedoras is held to be the death of the men's formal hat industry. This opinion is not totally true. The men's hat industry had been declining for decades. However, it is probably true that President Kennedy's refusal was literally the "(lack of a) straw (hat) that broke the camels back."
Jackie, presented a paradoxical challenge to fashion in general and hats in particular. Though being remembered as a fashion icon, her range in both designers and designs was focused. Outfits & Gowns; Oleg Cassini. Hats, make that pillbox hats; Halston. Jackie's other head cover was the mantilla which became a U.S. fashion rage. There were mantilla everywhere! Even the Roman Catholic Church proclaimed that mantillas qualified as a woman's hat in church. Reflecting back at the memorable photos of Jackie, one notes that she wore a pillbox on her first day as First Lady and on her last day as First Lady in Dallas. She wore a mantilla for the funeral.
As trendsetters, Jack and Jackie Kennedy had major impacts on fashion, elegance, culture, and more. Certainly, Jack did not mean to roll-over on the men's hat industry, but he did. And, ironically, First Lady's have a way of becoming trapped in their signature style, which for Jackie was the pillbox and mantilla.
How many different pillbox hats can a millinery salon sell to its clientele; ditto for mantillas which were available everywhere, including "Five & Dime" stores?
Suddenly, hat fashions and etiquette was transformed. Hat wear by women and men declined rapidly.
It is ironic that Queen Elizabeth II, thought of as dowdy, has always been more fashionable in her headwear: "God save the queen!" Further, the Queen's grand-daughter-in-law, Kate, Duchess of Cambridge, wife of Prince William, is already having impact on hat fashions with her wearing fascinators and stylish cocked hats. "Hope springs eternal" for her continued trendsetting.
JDS
JACK & JACKIE
CLICK IMAGES TO ENLARGE
In 1960, John F. Kennedy became President of the United States. Handsome "Jack" and beautiful "Jackie," both fashionable and charismatic, moved into the White House. It was Camelot; that is, except for women's and men's hat stores.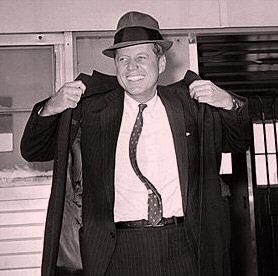 Jack looked good in hats, but he did not like wearing them. In truth, he did not even carry one along until the men's hat industry protested that he should at least do that. Jack did, sparingly. Below, you see him with hat-in-hand leaving Air Force 1 for their memorial Paris visit.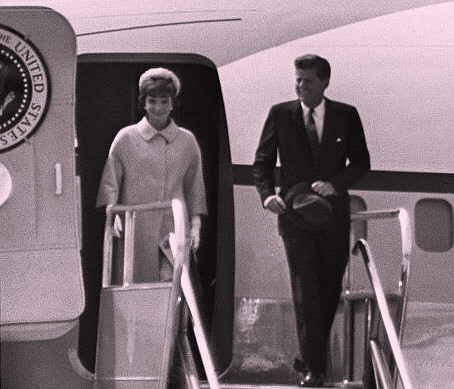 Below is Jack and Jackie arriving in Dallas with her signature pillbox that to this day has not been located by the National Archives which does have her outfit preserved and locked for 100 years.
READ THE INTRIGUING MORE